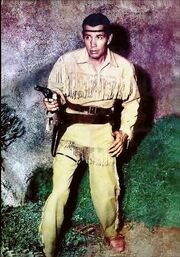 This article contains information from Wikipedia.
Jay Silverheels (May 26, 1912 - March 5, 1980) was a Canadian Mohawk actor. He was best known as Tonto, the faithful Native American companion of The Lone Ranger in a long-running American television series.
Early history
Edit
Born Harold J. Smith on the Six Nations of the Grand River First Nation, near Brantford, Ontario, Canada, Silverheels excelled in athletics and lacrosse as a boy before leaving home to travel around North America, competing in boxing and wrestling tournaments. In the 1930s he played indoor lacrosse under the name of Harry Smith with the Rochester, NY "Iroquois" of the North American Amateur Lacrosse Association. He lived for a time in Buffalo, New York. In 1938 Silverheels placed second in the middleweight section of the Golden Gloves tournament.
Film career
Edit
Silverheels began working in motion pictures in 1937. During the early years of his screen career, he was billed variously as Harold Smith or Harry Smith, and appeared in low-budget features, westerns, and serials. From the late 1940s he played in more prestigious pictures, including Captain from Castille starring Tyrone Power, Key Largo with Humphrey Bogart, (1948), Broken Arrow (1950) with James Stewart, War Arrow (1953) with Maureen O'Hara, Jeff Chandler and Noah Beery, Jr., Drums Across the River (1954), Walk the Proud Land (1956) with Audie Murphy and Anne Bancroft, Alias Jesse James (1959) with Bob Hope, and Indian Paint (1964) with Johnny Crawford. He made a brief appearance in True Grit (1969), as a condemned criminal about to be executed. He played a substantial role as John Crow in Santee (1973) starring Glenn Ford.
TV career
Edit
Silverheels achieved his greatest fame as the Lone Ranger's friend Tonto. In addition to starring in the Lone Ranger television series from 1949 to 1957, Silverheels appeared in the films The Lone Ranger (1956) and The Lone Ranger and the Lost City of Gold (1958).
Following the end of the Lone Ranger television series, Silverheels found himself typecast as Tonto and had trouble finding further acting work. Silverheels was also hindered by a changing attitude, as some felt that the Tonto character was equivalent to a Native American Uncle Tom. Subsequently, Silverheels was forced to work as a salesman to supplement his acting income. He also began to concentrate on writing poetry influenced by his youth on the Six Nations Indian Reserve and appeared on television reciting his poetry. In 1966, he guest-starred as John Tallgrass in the short-lived ABC comedy/western series The Rounders, with Ron Hayes, Patrick Wayne, and Chill Wills.
Despite the typecasting, Silverheels often poked fun at his character in later years. In 1969, he appeared as Tonto in a comedy sketch on The Tonight Show with Johnny Carson, seeking new employment away from the Lone Ranger. The sketch was featured on the 1973 record album Here's Johnny: Magic Moments From The Tonight Show.
Among his later appearances were an episode of The Brady Bunch, as a Native chief who befriends the Bradys in the Grand Canyon, and an episode of the short-lived Dusty's Trail, starring Bob Denver of Gilligan's Island fame. During the "Brady Bunch" Grand Canyon episodes, the character Alice makes a tongue-in-cheek remark about meeting "Tonto" in the episode before the character meets Silverheels' character.
In the early 1960s, Silverheels helped to establish the Indian Actors Workshop in Echo Park, California as a place where Native American actors could develop their acting skills. The workshop is still active.
Personal life
Edit
Silverheels raised, bred and raced horses in his spare time. Once, when asked about possibly running Tonto's famous Pinto horse Scout in a race, Jay laughed off the idea: "Heck, I can outrun Scout!"
Married in 1945, Silverheels was the father of two boys and a girl. He died of a stroke in Calabasas, California and was cremated at Chapel of the Pines Crematory. His ashes were returned home to Six Nations Indian Reserve.
In 1993, Silverheels was inducted into the Western Performers Hall of Fame at the National Cowboy & Western Heritage Museum in Oklahoma City, Oklahoma. He was named to the Western New York Entertainment Hall of Fame and his portrait hangs in Buffalo, New York's Shea's Buffalo Theatre. He has a star on the Hollywood Walk of Fame at 6538 Hollywood Boulevard.
References
Edit
Lamparski, R. (1970) Whatever Became Of...? Vol. 3, Ace Books, New York.
Jay Silverheels Authorized Biography, July 2013, Tonto: The Man in Front of the Mask, www.realpeopleshistory.com
External links
Edit
Community content is available under
CC-BY-SA
unless otherwise noted.