This article contains information from Wikipedia.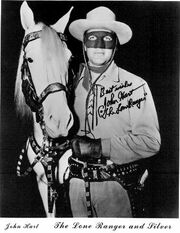 John Hart (December 13, 1917 - September 20, 2009) was an American motion picture and television actor. In his early career, he appeared mostly in Westerns. Although he has played mostly minor roles in some fairly well-known films, he is probably best-known for replacing Clayton Moore in 1952 for the third season of the television show The Lone Ranger when Moore demanded a higher salary.
In 1957, Hart portrayed Nat "Hawkeye" Cutler in the syndicated western series Hawkeye and the Last of the Mohicans, set in New York State of the 1750s. The one-season program was based loosely on the novels of James Fenimore Cooper. It was filmed in Canada and featured Native Americans in a favorable image.
Based on the assumption that the masked character, rather than the actor was the true star of The Lone Ranger, the program producers fired Moore and replaced him with Hart, who was of a similar build and had a comparable background in westerns. However, the public never truly accepted Hart as "The Ranger," and by 1954 the owners acquiesced to Moore's demands and returned him to the role.
Though terminated, Hart continued to act in films for over two more decades on a fairly regular basis. He appeared in films of several genres, almost always in supporting roles. His last film appearances, were in 1981's The Legend of the Lone Ranger in which he appeared as newspaper editor Lucas Striker, apparently as a tribute to his time as "The Ranger" years earlier. Another appearance was in the television series Happy Days as "The Lone Ranger" in the episode "Hi Yo, Fonzie Away" (Feb. 9, 1982), with Hart reprising his role as "The Lone Ranger". In this episode Fonzie, played by Henry Winkler, meets his childhood hero, The Lone Ranger. The other major one is The Greatest American Hero episode, "My Heroes Have Always Been Cowboys" where Hart appears as himself inadvertently giving the title character an inspiring speech about heroism at a time when he was considering abandoning his superhero career.
In 1955, he starred in The Adventures of Captain Africa, which was originally intended to be a new movie about famous comic book hero The Phantom. However, licensing issues made Columbia re-film the entire serial and re-christen the hero "Captain Africa". He is a native of Los Angeles, California.
External links
Edit
Community content is available under
CC-BY-SA
unless otherwise noted.