Julius Bartholomew
, aka 'Black Bart' is an African-American outlaw appearing in the
Lone Ranger
comic book series from Dynamite Entertainment.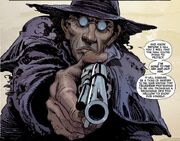 Dynamite Entertainment
Edit
Julius Bartholomew, more commonly called 'Black Bart,' is a character created for Dynamite Entertainment's updated version of the Lone Ranger. He is a ruthless killer, hired by Butch Cavendish to ensure that all six Rangers in Bryant's Gap are killed, and that the ambush cannot be traced back to Cavendish.
His first act is to kill Collins, the thief who led the Rangers into the gap. Then, when the outlaws who to took part in the ambush do not show up for payment, Bart goes out to investigate. He finds all of Cavendish's hired guns dead, and six graves for the Rangers. To make sure they are all dead, Bart digs up the graves, and only finds five bodies. He sends word to Cavendish that one Ranger lived, and then sets out to find him. He locates and murders the families of all the Rangers until he has only two names left on his list - Dan and John Reid.
Community content is available under
CC-BY-SA
unless otherwise noted.