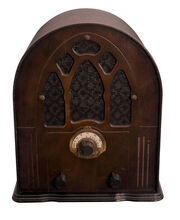 The Town With No Guns was Episode #??? of the Lone Ranger Radio Series.  The original episode aired on 7-20-1938.
Characters Featured
Edit
Zeb Wells -rich, eastern
Nate Porter -marshall
Monty Meegan -thug
Dolph Layton -thug
Cliff Dolan -rancher, courting Rita
Rita Wells -daughter of Zeb Wells
Plot Synopsis
Edit
Outlaws Monty Meegan & Dolph Layton approach the town of Wellsville and are stopped by the Marshall, Nate Porter.   Marshall Porter stops them and asked for their guns and explains that the wealthy Eastern financier of the town, Zeb Wells, doesn't like western folks, their ways, or their guns.   Outsiders can do business in the town but cannot bring in guns, marry their woman or live in the town limits.   Monty & Dolph reluctantly give up their guns and travel into town.
The Lone Ranger & Tonto were tracking Meegan & Layton.   Ranger agrees to go warn Zeb Wells about his strange ways and the folly of them while Tonto tracks Meegan & Layton through town and back to their camp.
Rita Wells, daughter of Zeb Wells, is running the local store when her secret Western sweetheart sneaks in. Cliff Dolan tells Rita that he doesn't want to hide any longer from Zeb Wells and that Zeb will understand.  Zeb enters and Cliff Dolan reveals his feelings.   Zeb Wells pulls out a horsewhip and proceeds to beat him.
Community content is available under
CC-BY-SA
unless otherwise noted.