Ranger Jim
is a retired Texas Ranger who works the Lone Ranger's silver mine providing the masked man with his silver bullets.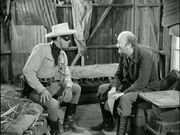 Ranger Jim is an old retired Ranger and friend of the Reid family. When the Lone Ranger decided to put on a mask and fight injustice in the West, he recruited Jim to work the family silver mine. Jim produces the Ranger's trademark silver bullets and provides the Ranger and Tonto with whatever cash they need.
Television
Edit
On the television series Ranger Jim was given the last name of Blaine. He was played by Ralph Littlefield.
Jim has been referred to in different media different ways. The television show named him Jim Blaine. In the Dell comic book series he was referred to as Ranger Jim. A 1970s story album gave him the name Jim Fosset.
The mine that Jim operates for the Reid brothers was called "The Lone Star Mine" in a 1960s animated cartoon that represented the first attempt, after the live-action television series had ended, to bring the Lone Ranger back to television.
Community content is available under
CC-BY-SA
unless otherwise noted.